Workshop on Emotional Intelligence ( WEI-06)
फा.सं / FILE NO: A-33072/01/2017-ISTM
भारत सरकार / GOVERNMENT OF INDIA
सचिवालय प्रशिक्षण तथा प्रबन्ध संस्थान
INSTITUTE OF SECRETARIAT TRAINING & MANAGEMENT
(आईएसओ 9001:2008 संस्था / AN ISO 9001:2008 INSTITUTION)
कार्मिक एवं प्रशिक्षण विभाग / DEPARTMENT OF PERSONNEL & TRAINING
प्रशासनिक ब्लाक, ज.ने.वि. परिसर (पुराना) / ADMINISTRATIVE BLOCK, JNU CAMPUS (OLD),
ओलोफ पाल्मे मार्ग, नई दिल्ली - 110067/ OLOF PALME MARG, NEW DELHI – 110067
दूरभाष / TELEPHONE – 011-26164285; टेलीफैक्स / FAX – 011-26104183
दिनांक / Date: 6th July, 2017
To
1. All Central Ministries/Departments
2. Head of the Departments, All Attached/Subordinate Offices
Sub: Extension of date for submitting online nomination for the Workshop on Emotional Intelligence (WEI) from 2nd August, 2017 to 4th August, 2017 at ISTM- regarding.
Sir/ Madam,
I am directed to refer to the Circular of even No. A-33072/01/2017-ISTM dated 19th April, 2017 and to state that the last date for receipts of online nomination for the above-mentioned workshop scheduled to be held at this Institute during 2nd to 4thAugust, 2017 has been extended upto 17th July, 2017.
2. Sponsoring Authorities are requested to nominate their participants for the Workshop on Emotional Intelligence till 17th July, 2017. Original Course Circular is available on ISTM website (www.istm.gov.in).
Yours faithfully,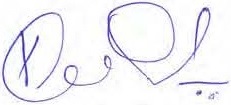 (K. Govindarajulu)
Joint Director & Course Director
E-Mail: kg.rajulu@nic.in
Phone No. 011-26164285